We have in our earlier posts gone over different strategies and tips for the TOEFL reading passages.
Today we are going to present in detail what kind of questions you should be asking yourself when taking on the TOEFL reading passages.
The questions you should ask yourself when reading for the TOEFL test are: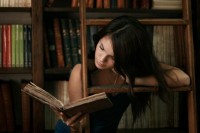 Who
What
Where
When
Why
How
If you remember to ask and the answers of these questions you will comprehend what the TOEFL reading passage is about. A key component on having this information is to take notes.  You should especially have the following section written down in your notes:
The  first sentence and last sentence of the TOEFL reading passages, pay attention to all topic sentences and examples supporting the thesis. Write down numbers, dates and other statistics. These are all information that needs to be in your notes when you are taking the TOEFL.
Transitions are a word or phrase that takes you from one idea to another, it is important to be aware of the different transitions in the TOEFL since usually since each claim in the reading passage have a question.
These are some of the factors to consider when taking the reading section part of the TOEFL exam.
Next time we will be looking into writing section of the TOEFL test.