There are two parts of the TOEFL writing section, first part involves you listening to a lecture with headphones and write an essay based on the lecture and information you just received. The TOEFL writing section is not hand written so if you are uncomfortable typing on a computer you should practice it. You should and are allowed to take notes when listening to the lecture.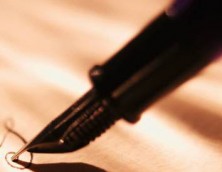 The score is based on how well connected and how well you present the information you received during the lecture and reading. A part of the score is also how well you write generally.
The second part of the TOEFL writing section is an independent writing task where you write an essay on a familiar topic. You are scored on how well your grammar is, the organizations of the essay, and the use of vocabulary.
The TOEFL writing section is timed and it is important to be timing yourself when you practice for the test.
Part I: Gives you 3 minutes to read, 2 minutes to listen and 20 minutes to write. Your task is to read a passage and listen to a lecture. Write a summary of the information received.
Part II: Gives you 30 minutes to write.  You task is to write about a familiar topic.
Next time we will look at different strategies for the TOEFL writing section.